Referee Summer Camp
Canadian School of Hockey Officiating: Referee Summer Camp ("Ref School")
A comprehensive four-day summer camp for minor hockey officials is conducted each summer by the GTHL's special training entity, the Canadian School of Hockey Officiating. The goal of the camp is to help attending officials to: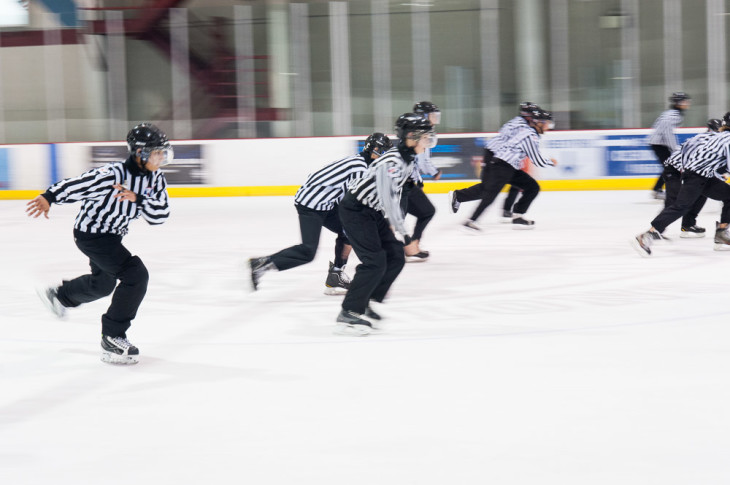 Improve their officiating knowledge and skills,
Develop appropriate officiating attitudes and values,
Expand their awareness of conditioning/fitness programs and nutrition,
Obtain official certification or re-certify as a Hockey Canada Officiating Program referee, and
Physically and mentally prepare for the upcoming minor hockey season.
The Director of the Canadian School of Hockey Officiating (an appointed position by the GTHL Board of Directors) manages the Referee Summer Camp. Curriculum support is provided by the GTHL Technical Director of Officiating.
Referee Summer Camp is suitable for all males and females 16 years of age or older by the end of the calendar year. Participants from the USA and other countries are eligible and welcome to attend.
The programs offered at the Camp are:
Each of these programs involves classroom work, on-ice training sessions and evening game assignments. Expert instruction, supervision and mentoring for the participants is provided by experienced National Hockey League officials and certified Hockey Canada referees and instructors from the Ontario Hockey Federation.
The 2020 Camp will run August 17th to the 20th out of the Vaughan Sports Village. Registration for the Camp Programs will open in early May. Please check back at that time for additional registration details.
To register for any of our Summer Camp Sessions listed above, please use the corresponding hyperlink to log in or register for an eHockey account or, please click here: EHOCKEY LOGIN/ REGISTRATION and select:  Type *Official Summer Camp
Note:  If you do not have an eHockey account, please create the participant as a New User. Please note that each person in the registry must hold his/ her own eHockey profile connected to their very own email address.