Founders Cup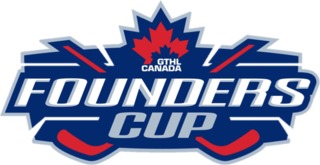 Details
The Founders Cup is open to GTHL and MHL "A", "AA" and "AAA" teams eliminated from the first round of the playoffs. All other teams must be cleared by tournament officials. Please refer to the eligibility chart for more information.
The 2020 Founders Cup can start as early as February 25. The tournament will end on Championship Weekend,  April 11-12.
Tournament sanction number: 5577
CLICK HERE to register for the 2020 Founders Cup
Please note:  The $1600 registration fee DOES NOT include Game Sheet Fees.  For information on Game Sheet Fees, please CLICK HERE.
Registration and payment (by credit card) will only be available online.  Per standard GTHL policy, please ensure that your club GM also submits a Tournament Approval Form online. Please also note that games WILL be played during March Break.

2020 Tournament Format

Tournament format is based on the number of teams that enter within a division.  Teams will be guaranteed six games during the tournament.
Updated 2020 Founders Cup Round-Robin format by division: COMING SOON
Updated 2020 Founders Cup Playoff format by division: COMING SOON
Updated 2020 Founders Cup OT format can be found here:
OT Format
Playoffs will be determined by the rankings/results after the round-robin games. Playoff structure will be determined by the number of teams in each division. Each division MAY have quarter-finals but at minimum semi-finals and a championship game (April 11 or 12).
Note: If a player is an affiliate with a team that is playing in the same division as their own team for the tournament, the player will not be permitted to play on both teams for the entirety of the tournament, but only their own team.
Tournament Withdrawal
If a team is registered into the Founders Cup then makes it past the first playoff round, payment is refunded without penalty.
In all other circumstances:
If a withdrawal request is made 7 days before the tournament start date, 70% of the registration fee will be refunded.
If a withdrawal request is made after playing one game, 50% of the registration fee will be refunded.
If a withdrawal is requested 72 hours before a scheduled game default game fees will apply in addition to withdrawal fees, See GTHL rulebook-Rule: 9.14 – Defaulted Games.
If a withdrawal request is made after the second game played, no refund will be made.
*All refunds will be issued by cheque.
Teams will be responsible for paying game sheet fees to the GTHL Rink Attendants prior to the beginning of each game. There are no gate fees.
Schedule Information

The GTHL Website (GTHL Games Centre) at www.gthlcanada.com will be the only means of game notification. To view schedules, choose the "Founders Cup" drop-down menu. Any team failing to appear as scheduled shall be assessed the regular GTHL default fee.
Please note that times and locations of some games will be listed as TBD. The date for each game will be correct. For example, you may see a 1:00am game at rink TBD1. Game times and locations will be updated closer to the game date.
GTHL MINIMUM SUSPENSION LIST will be used throughout the course of the tournament.
Contact Information
Gavin De Souza, Coordinator, League Operations & Events
Phone: (416) 636-6845 Ext. 233
Fax: (416) 636-2035
E-mail: gdesouza@gthlcanada.com