Where Are They Now: GTHL Special Recognition Award Winners
GTHL Special Recognition Award winner Ethan Martins with GTHL Immediate Past President John Gardner (left), and GTHL President Don West (right) at the 2015 GTHL Awards Celebration.
---
The annual GTHL Awards Celebration honours the accomplishments and perseverance displayed by members of the GTHL community. Ethan Martins (2015) and Stefan Pietrobon (2012) are former recipients of the GTHL Special Recognition Award.
---
Ethan Martins
All Ethan Martins wanted was a glass of water. Sitting in his doctor's office for a routine check-up, there was nothing that could quite quench the 10-year-olds thirst.
"Our family doctor asked him to give a urine sample. He came back in the room and told us to go to Sick Kids immediately. He [Ethan] had Type 1 diabetes," explained Ethan's mother, Brenda. "Ethan's only question to our doctor and the endocrinologist at emergency was could he still play hockey."
Receiving his first insulin injection at 3 p.m., Ethan was on the ice at Ted Reeve Arena only two hours later. Other than testing his blood sugar before and after games and practices, diabetes hasn't prevented Ethan from excelling on the ice. His day-to-day life, however, is a different story.
"My life has changed a lot. I have to calculate everything I eat. I check my blood sugars before I eat," explained Ethan "Because I am so active, I can go low or high very fast, so I wear a continuous glucose monitor."
Since his diagnosis, Ethan looks up to GTHL Grad Max Domi, who was also diagnosed with Type 1 diabetes as a child. Like Max, Ethan hopes to make it to the AAA level.
"I play for the Peewee AA West Hill Golden Hawks this year and have 20 goals so far. My goal is to play AAA in the GTHL. My ultimate goal is to play in the NHL."
---
Stefan Pietrobon
Much like Ethan, Stefan Pietrobono has played hockey since he was 5-years-old – citing the game as a passion rather than a hobby.
Going into his Midget AAA season, Stefan was in prime physical condition. After playing AA for a few seasons, he was pleased to be playing AAA again with the North York Rangers. Prior to heading into his second Midget season, Stefan noticed a buildup on his clavicle that continued to grow.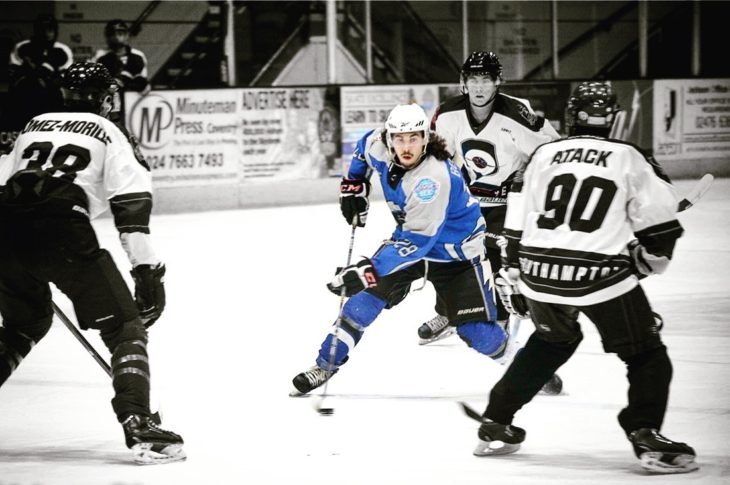 "The last thing an athlete would ever expect would for it to be cancer," said Stefan.
After a series of doctors visits, tests, and scans, Stefan was diagnosed with stage 3b Hodgkin's Lymphoma.
"One of the most important factors that kept me fighting was hockey," explained Stefan. "To some, hockey may be just a sport, but to me it was my life. The fact of the matter is, even during my chemotherapy treatments, I still found myself on the ice training, or at least trying my best to do so."
While it was not always an easy road, Stefan has now been cancer free for the past six years. After receiving a clean bill of health, Stefan continued to play in the GTHL with the U21 AAA West Mall Lightning.
"That team was something special, we won the Silver Stick Tournament and the OHFs that year," explains Stefan. "Reminiscing those moments were pretty great, especially to do it with a committed and talented team."
In addition, Stefan also continued his studies – obtaining a degree at the University of Toronto in Kinesiology. He is currently finishing up his MBA at Coventry University in England where he plays hockey on their Division A varsity team.
---
Know a GTHL player who has overcome adversity and continued to play hockey? Nominate them for the GTHL Special Recognition Award.