U-18 Alberta Bound
---
The Ivan Hlinka Memorial Cup has a new home and a new name.
Now the Hlinka Gretzky Cup, the tournament is set to return to Canada this summer, marking the first time since 1996 that the event will be held outside of either Slovakia or the Czech Republic. The under-18 showcase has been played in Canada once before, with Nelson and Castlegar, B.C., co-hosting the tournament 22 years ago.
Canada won its first of seven consecutive gold medals that year, a record that stood until a team featuring GTHL graduates Victor Mete, Michael McLeod and Jordan Kyrou lifted our country to a record eighth straight championship.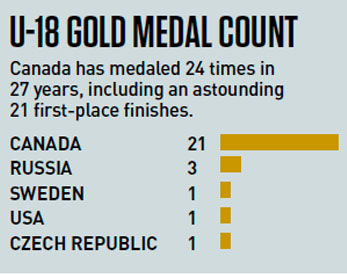 Prior to 1996, the event was held in Japan four times (1991-1993 & 1995) and in Mexico once (1994), with Canada earning two gold, two silver and one bronze.
When the puck drops in Edmonton and Red Deer for the 18-game, six-day event beginning Aug. 6, eight teams will compete for the top prize: Canada, Czech Republic, Finland, Russia, Slovakia, Sweden, Switzerland and the United States. The two cities will welcome a collection of elite under-18 players from the world's most dominant hockey nations, with the top two meeting in the gold-medal game on Aug. 11 at Rogers Place in Edmonton, where the 2020 and 2022 tournaments will also be played.
Looking back to the 2017 rendition of the tournament, Canada's ninth first-place finish in the past decade was highlighted by six former GTHL players: Kevin Bahl, Alexis Gravel, Barrett Hayton, Jack McBain, Ryan Merkley and Akil Thomas. Expect to see a few GTHL graduates on the 2018 squad, too.
Many of today's prominent NHL stars have showcased their talents at the Hlinka Memorial, including Pittsburgh Penguins captain Sidney Crosby, Winnipeg Jets forward Patrik Laine and Tampa Bay Lightning captain Steven Stamkos. Swedish defenceman Rasmus Dahlin, one of the top-ranked prospects for the 2018 NHL Draft, suited up for Team Sweden at the 2016 competition.
Stars aren't necessarily born at this tournament, but they are bred here. Get ready, Canada.
Note: Eight GTHL grads were named to the 2018 National Men's Summer Under-18 Selection Camp Roster. Click here to see the full roster.