The Bear Hug Cares For The Community Amidst COVID
---
Like thousands of kids across the Greater Toronto Area, the U12 Scarborough Young Bruins are missing the sights, sounds, highs and lows, of a traditional hockey season. While the Bruins may not be scoring goals on the ice, the team knew there were ways to work on the intangibles and exercise positive teamwork. Instead of harping on what they've lost due to COVID, the Bruins channeled their energy into helping others who have been directly impacted by the pandemic.
The tight-knit group came together to form an initiative called "the Bear Hug." In the 60 days leading up to Christmas, the Bear Hug plans to spread different forms of community love each day, both individually and as a team.
"What I like best about this initiative is that I feel like I am helping people and I feel more appreciative for what I have," said Bruins player Alistair Watson. "My advice to other players that want to give back is that it's always nice to be a part of giving to others and it also makes you more appreciative for what you have."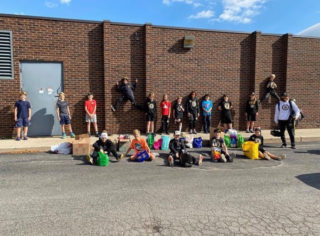 In the month of October alone, the Bruins have taken part in two initiatives as a team, beginning with a food drive that saw the team collect 17 bags worth of food for a local food bank. Next up, the U11 squad compiled and delivered PPE to the Rexdale Community Hub to be distributed to those in need.
Giving back as a team has also allowed the play to see one another while practicing social distancing.
"When we donated to the food bank I liked that we were helping people who need it more than we do," explained Bruins player Maclean Markham. "I was also happy that I got to see the whole team together in the parking lot for a few minutes when we collected the food."
The Bruins are now encouraging other teams across the GTHL to follow their lead and make use of the newfound extra time they have on their hands with no hockey to be played.
"They can start by talking to their parents or a trusted adult about their ideas, doing some research about their community and where the needs might be," said Watson. "The last thing is to just do it! Start with something simple, share the idea with friends and get everyone in to it."