Re-Connecting Through Coaching
---
It's not uncommon for teammates to stay lifelong friends, but for a goaltender, a forward, and a defenceman from the 1996 born Vaughan Panthers "A" team, a love for the game is something they've decided to collectively pass down to a new generation of GTHL players. After attending different universities, Matthew Altberg, Evan Maker, and Noah Karlin recently re-connected behind the bench and instilling their positional expertise with the Toronto Aeros Minor Atom "A" team.
"I believe our experience as teammates helped with our coaching since we were all taught the same principles and we are all familiar with the same process," explained Matthew, who coaches alongside his Dad. "Since we were on the same team in the past, our mindsets and goals for the team and season are the same."
All three former Panthers players together from Minor Bantam to Midget. Their chemistry on the ice led to results on the scoreboard, including a City Championship.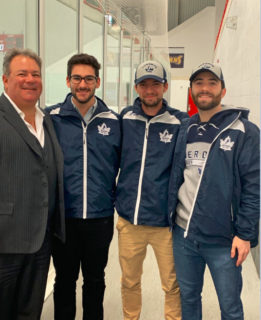 "We reached the finals three years in a row," recalls Noah. "We're using these experiences to help coach the kids since we know what it takes to get there and what it's like to win or lose at this level."
At only 23 years of age, the three friends are among some of the youngest coaches in the League. While their playing days in the GTHL may be long over, Matthew says he was inspired to get into coaching by his Dad, while Evan was looking for a new challenge off the ice.
"I wanted to get into coaching because it seemed like a fun and new challenge," said Evan, who current officiates in the NYHL. "It's a nice to change from being a referee, definitely a much different perspective. Also, a nice way to volunteer and give back to the community."
Noah encourages all aspiring coaches to take Hockey Canada's Development 1 course to get a taste for what being a bench boss is all about.
"The course is a great way to see whether coaching competitive hockey is right for you. This course validated my love for the game and prepped me as a coach heading into this season."
Prospective GTHL coaches can click here to find a list of Development 1 clinics.