Mississauga Sports Hall of Fame Induction: Gord Murphy
---
Gord Murphy (Mississauga Blackhawks), Peter Johnson (Mississauga North Stars), Joe Schembri (Mississauga Terriers) and Lloyd Stockley (Mississauga Jets) are set to be inducted into the Mississauga Sports Hall of Fame on June 8. In honour of this achievement, the GTHL will be profiling each of them individually leading up to the event.
It started as just a simple favour. In the early 1960's, Gord Murphy's brother was looking for some help behind the bench and Murphy (or "Murph" as he's often referred to) was happy to comply. Little to his knowledge, the favour would extend to over a 50-year tenure in what would become the Greater Toronto Hockey League (GTHL).
Coaching the now defunct Etobicoke Canucks throughout the 1960s, Murphy would set his roots in the Mississauga hockey community in the late 1970s, coaching within the Reps organization. Murphy's Juvenile Reps team would become the first GTHL team at the Juvenile level to win a provincial title. With the Mississauga Braves (now the Mississauga Blackhawks) coming to fruition in the early 80s, Murphy would leave his role as President of the Junior B Mimico Monarchs to join the Braves as General Manager. He's been in the role ever since.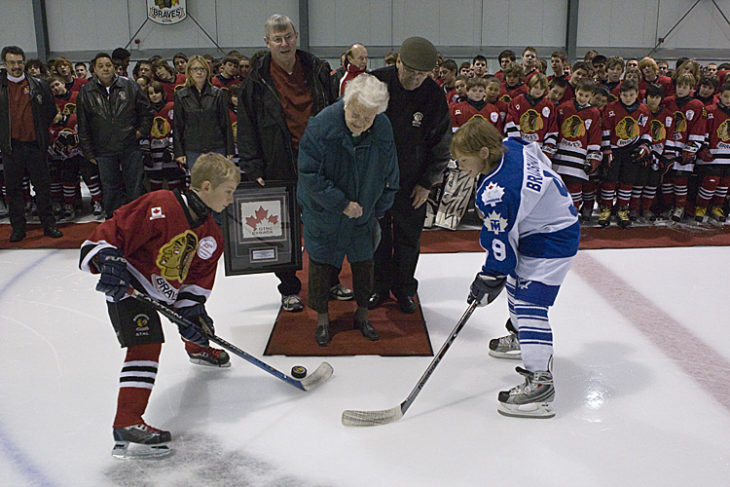 "Gord was, and has continued to be, so supportive throughout my minor hockey journey," said former member of the Mississauga Braves and Quinnipiac University commit Brooke Bonsteel. "He is the most deserving person of all that he has accomplished. He has become a very special person in my life, one that continues to make an impact on my hockey journey."
In addition to Bonsteel, Murphy has seen no shortage of talented players pass through his organization, with current Dallas Stars centre Jason Spezza standing out to Murphy as exceptional.
"Spezza had all the tools and could put the puck in the net like no one I've ever seen," explains Murphy, adding that New York Islanders forward Matt Moulson also was always one to impress. "He [Moulson] had was a skinny little kid with the brain of a lawyer. He can now press over 700 pounds with his legs."
Outside of the rink, Murphy admits he's never one to shy away from speaking his mind in the boardroom, with his fellow inductees often on the receiving end of his grievances.
"We have our arguments," admits Murphy. "I enjoy being inducted alongside three others, we've been partners a long time and we're like brothers."
Murphy's induction will not be the first time he's acknowledged for his work in hockey. At the 1993 GTHL Awards Ceremony, Murphy was presented with the George Chamandy Memorial Trophy – the League's highest award presented to an individual. Despite his accomplishments, Murphy admits he was thrown off guard when he was told of his pending induction.
"I was dozing off when the phone rang and I thought it was a joke," said Murphy who added he was flattered to receive the news, but couldn't possibly take sole credit for the success of the Blackhawks organization. "It takes so many people to build a hockey organization. I'm just one of them."