Lest We Forget
---
Each year on November 11 we stop to remember those who have sacrificed their lives to provide us with the daily freedoms we enjoy. During the start of the First World War, the Greater Toronto Hockey League would often bid farewell to players from senior ranks as they went overseas to join the fight. When the Second World War started, the League was an active participant in the Sports Service League for Canadian soldiers. Today, we take the time to honour those Canadians.
Several GTHL Clubs have their own Remembrance Day ceremonies and traditions, including the Toronto Marlboros who have (literally) worn their respect on their sleeves. Marlboros president Jim Nicoletti explains how the Club acknowledges Remembrance Day.
---
The Start of a Tradition 
"The Marlboros special recognition of Remembrance Day began a little over three years ago when Al Findlay [speak-out coordinator], Michael Chraba [Marlboros general manager] and myself were in Ottawa attending the All-Ontario PeeWee Championship event.
During the time off between games, Al and myself decided to visit the National War Museum in Ottawa. During the visit we were overwhelmed with emotion from the veterans and war artifacts. I'm a former Canadian history teacher and Al is a former police officer, together we knew we were on to something. How could we inspire our young Marlboro members to just get a taste of the awesome respect and dignity deserving of our war heroes? The visit to Ottawa was the seed to get our initiative off the ground. We called the Legion in Ottawa to be sure we would not be offending anyone by wearing camo jersey's, and with their blessing we proceeded to have the jerseys made for each one of our 130 plus players.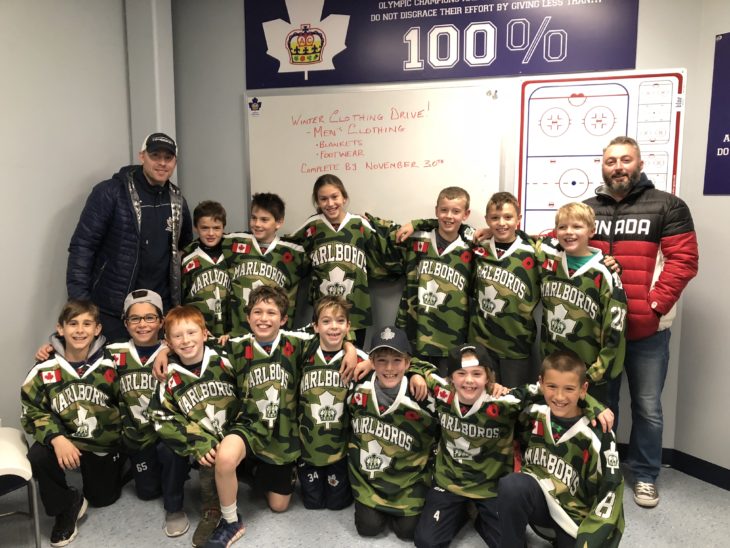 Michael and I went to the GTHL for a special meeting to request permission for having a third jersey for a three-week period in late October through mid-November. We presented the GTHL with their copy, and then proceeded to send one to Don Cherry who displayed it on a Saturday night broadcast.
We have followed the jersey idea from the first year and then made caps for the second year. This the third year we have made toques for all our Marlboro players – always following the traditional camo theme.
Along with the items players have received over the past three years, it's very important to note that these items are never merely handed out as mere tokens of respect. Every year, Al Findlay, with the help of Lynn Dennis [Marlboros secretary/treasurer], prepares a special commemorative presentation depicting the sacrifices of our soldiers and highlighting the importance of respect for the freedom given to us all because of their sacrifices. These presentations are accomplished one team at a time, thereby having 8 presentations with stories and video depicting our veteran's sacrifices.
The Marlboros have received very strong support from parents and players for this initiative. This year we are going the extra step. With money raised from selling our extra inventory of toques, we will be visiting the Legion and providing them with a donation from Marlboros."