Giving Back and Learning During COVID
---
In a year full of challenging times, the GTHL family has risen up by doing one simple thing: helping others. Teams and players across the league have assisted in the fight of COVID-19, supporting frontline workers and those in need. While we are not back to cheering from the stands yet, there are many stories deserving of high praise. GTHL players also used their time under lockdown to explore new interests, learn new skills, and bring happiness to others.
Take Your Shot to Fight COVID-19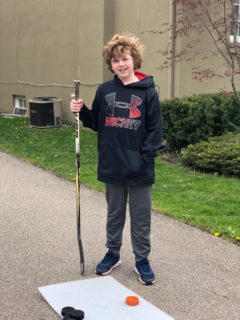 Max Lorber raised over $2,300 for Sunnybrook Hospital with a "Take Your Shot to Fight COVID-19" campaign – an initiative that encouraged kids to stay active through quarantine and raised money for COVID research. Kids participated by pledging to take 1,000 shots in a month – hockey, basketball, soccer or whatever other sport that would keep them moving. Twelve-year-old Max encouraged youth to participate, spread the word through social, and create a positive change amidst the global pandemic.
Last season, Max played with the U12 Duffield Devils.
---
Armour For Heros
Warren Richmond Kalaci traded in his goaltender mask for plastic face shields to help people in need at SickKids and McMaster Children's Hospital. Using a 3-D printer, Warren made kid-friendly face shields with the goal of making masks less scary for young children. His masks included superhero logos, bunny ears, and Wonder Woman crowns. Warren raised almost $7,000 to put towards purchasing material for the project and distributed the 650 masks made to the two hospitals.
Last season, Warren was a goaltender for U12 North Toronto.
---
Ice Raiders Give Back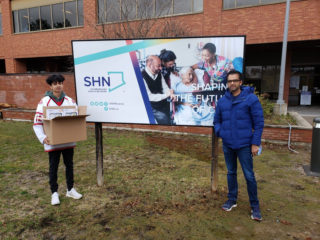 The Midget Jr. "A" Scarborough Ice Raiders teamed up with Conquer COVID-19, a volunteer-driven organization that facilitates access to priority products in short supply during the pandemic. The team collected baby monitors to allow doctors to monitor patients in isolation – both purchasing and delivering the monitors to Scarborough Hospital. The team of 16-year-olds challenged other GTHL teams to give back to causes needed in their region.
---
Goulding Park Rangers Donate PPE
The Minor Atom Goulding Park Rangers also rallied to purchase PPE for health care workers. Using their excess budget, the Rangers became involved with Conquer COVID-19 and also donated baby monitors. The Goulding Park Rangers started an Instagram page, @covid19hockeychallenge, to encourage other teams to get involved with the cause, inspiring the 2003 Scarborough Ice Rangers to donate more monitors.
---
Humber Valley Sharks Tribute Team Manager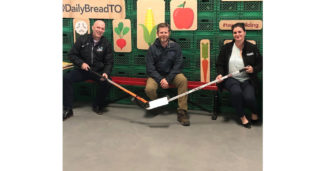 Through COVID, the Humber Valley Sharks grieved the passing of long-time team manager George DeMarchi in the most fitting way they could think of – giving back to organizations he cared about. The Sharks came together to raise a total of $30,000. Of that, $15, 000 was donated to the Daily Bread Foodbank, an organization DeMarchi was a long-time supporter of. The other half was allocated between three causes: Breakfast of Champions, providing free meals to front-line hospital staff; Sienna Senior Living Meals Program, supporting staff in long-term care facilities; and the Michael Garron Hospital Foundation, funding PPE for front-line workers.
---
Mississauga Terriers Support Make-A-Wish
The U14 Mississauga Terriers had one off-ice goal last season: to fulfill the wish of a terminally ill child through the Make-A-Wish foundation – a goal in which they needed to raise $10,000 to accomplish. The U14 team launched nine different initiatives to raise the funds, and despite COVID, continued their season-long effort to ultimately surpass their goal. In total, they raised $10,150.
---
Toronto Wolverines Support Meals on the Move
The U11 Toronto Wolverines raised $1,125 in support of both Toronto Raptors Superfan Nav Bhatia, who has created an initiative called "Meals on Wheels", and William Osler Health System. The program "Meals on the Move" involved picking up meals donated by local restaurants and delivering them to shelters, long-term care facilities, and hospitals throughout Mississauga and Brampton before spreading throughout the GTA.
---
Life Under Lockdown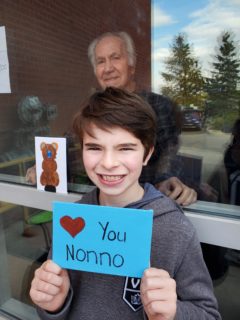 Daniel Dennis
Vaughan Kings U11
Right Wing
"At the beginning of Covid-19, there was no hockey, no school, and I wasn't able to play with my friends so my mom told me to find something else to do. Since we went to see my Nonno every other day, I wanted to draw him a picture to decorate his room. My mom asked if I wanted to paint. I said sure. So, I started painting him pictures. Every week I would bring him his favourite cookies with a picture. He smiled when he saw them. This made him happy. I miss going inside to see him. So, I made these pictures so he can look at them."
---
Jacob Jansen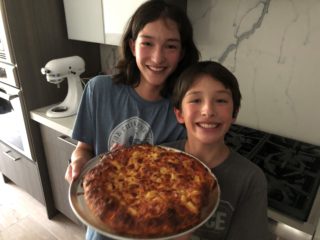 North Toronto U14
Goalie
"I had lots of time to experiment in the kitchen. I even learned how to make pizza dough from scratch. My mom really liked it when I made dinner for the family!"
---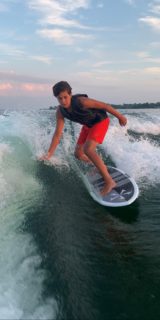 Jake Fisherman
Goulding Park Rangers U15
Centre
"I truly had an amazing summer this year, spending lots of time wake surfing. My family has a cottage on Lake Simcoe. When hockey was canceled in mid-March I started counting down the days until the boat was put into the water. This was the first year I can remember that we were out on the water by the middle of May. I have been surfing for two years now but this summer with a shortened hockey season, no school and no camp I was able to surf at least once every day for the entire summer."