Catching Up With the Ladies of the League
---
In September of 2016, Breakout Magazine highlighted some of the young women who have laced up with their skates for various GTHL Clubs. Since then, the girls have put another hockey season behind them and are gearing up for what the 2017-18 season will bring. Whether they're playing in the GTHL, or headed for a NCAA school, hockey still remains a consistent and important part of their lives.
---
Mackenzie Alexander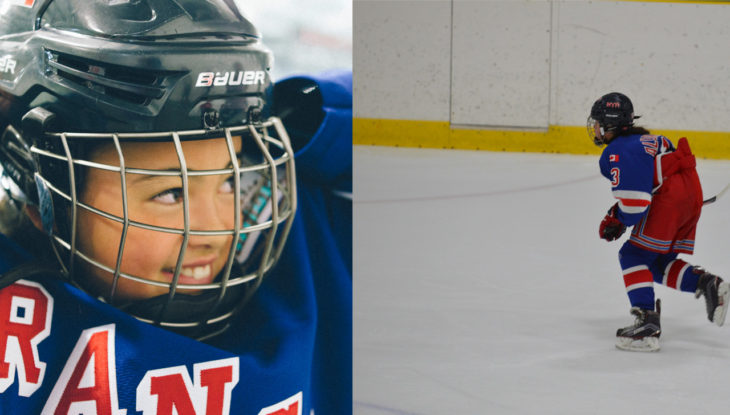 2016-17 Season: North York Rangers Atom "AAA"
2017-18 Season: Mississauga Jets Minor Peewee "AA"
Cover girl Mackenzie Alexander was gearing up for her Atom season in September 2016 – her third season playing for a competitive GTHL Club. "Since I have always played boy's hockey, I only think of it as hockey," she told Breakout.
After welcoming the challenge of switching to defense this past season, Mackenzie learned a lot while playing against the top players in her age group. The season also brought new friendships with teammates, many whom she still keeps in touch with. The upcoming 2017-18 season will bring on a new set of teammates for Mackenzie as she gears up for the Mississauga Jets Minor Peewee "AA" squad.
---
Brooke Bonsteel
2016-17 Season: Mississauga Jr. Chiefs (PWHL)
2017-18 Season: Quinnipiac University (NCAA)
GTHL Team: Mississauga Braves
Playing with the Mississauga Braves until her Bantam season, Bonsteel has spent the past three seasons with the Mississauga Jr. Chiefs of the Provincial Women's Hockey League. This season, Brooke helped lead the young Jr. Chiefs group as one of the team's assistant captains. After a seventh place regular season finish, the Jr. Chiefs persevered to win bronze at the PWHL Final Four. Next season, Bonsteel will take on new challenges as she plays Division I NCAA hockey for Quinnipac University.
"I am currently taking steps to build my strength and speed in preparation to play at a level that was only a dream when I played for the Mississauga Braves," said Bonsteel. "I am very thankful for the opportunities that the GTHL and the Braves organization provided for me. I would not be the player or the person that I am today without my experiences and development in the GTHL."
---
Mikayla Mistry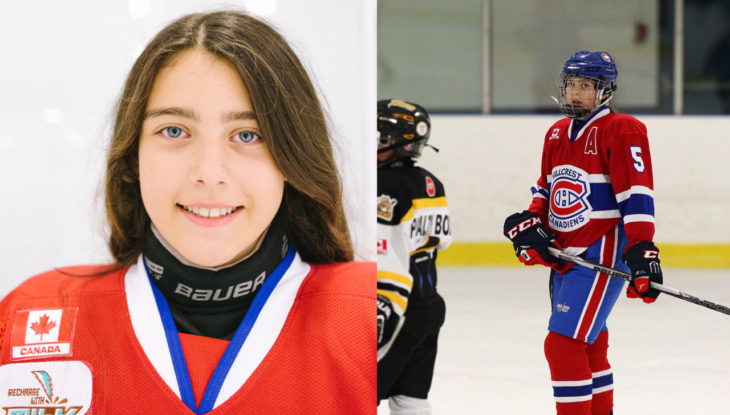 2016-17 Season: Hillcrest Canadiens Peewee "A"
2017-18 Season: North York Storm Bantam "A" (OWHA)
In her second consecutive season with the Hillcrest Canadiens, Mikayla was once again one of the top point leaders on her team. Her efforts earned her assistant captain status as she played vital roles on the first line and first powerplay unit.
For the 2017-18 season, Mikayla will join the North York Storm Bantam "A" squad in the OWHA. Her goal is to move up to the "AA" level by her Midget season.
---
Natassia Mistry
2016-17 Season: Goulding Park Rangers Minor Peewee "AA"
2017-18 Season: Goulding Park Rangers Peewee "AA"
Last season marked Natassia's third consecutive year as a goaltender with the Goulding Park Rangers. Her 2016-17 season was highlighted by five shutout performances. Natassia will continue to play with the Rangers next season.
"She still feels very comfortable and confident playing with the boys at the 'A'A level," explained her Father, Zubin. "She hopes to continue on for a couple more years with the boys in the GTHL."
Both Natassia and her sister Mikayla are working towards the long term goal of obtaining an NCAA scholarship in hockey.